Ensign Stål's Cabin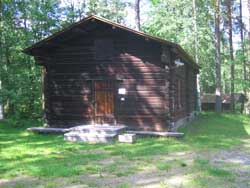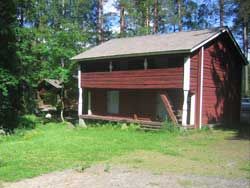 The official residence of the Kuru Lieutenant's dwelling place i.e. Ensign Stål's Cabin and behind it the sauna, below the balcony access outbuilding painted with red ochre, on the left of which appears one of the legged storehouses.
- Cabin and outbuilding photos © Anita Leppälahti 27.6.2008, design, research, text, editing, translation, grave photos © UJ 6/2008, 2.5.2011 - 2013

The Outdoor Museum of Kuru and the interior of Ensign Stål's Cabin, Poikeluksentie 60, are open for public 28.6. - 24.7.2011 from Tuesday till Friday at 12.00-18.00 and on Saturdays at 13.00-17.00. At other times during the opening season for groups by appointment. Information Etuovilla ry, (03) 349 6485 and +358 (0)500 742 698 or etuovilla(at)luukku.com. Admission free.

The Outdoor Museum of Kuru
The Outdoor Museum of Kuru is located in the Hoppasoja ditch depression about 1 km from the center of Kuru towards Tampere direction, next to the Keihäslahti Comprehensive School and the Gym Hall.

Ensign Stål
"What joy it is, alone at night
To feel my thoughts
returning,
To youthful years, wherein the light
Of friendly stars is burning!
Who'll join me on the road I take
To Näsijärvi's dusky lake?
Twas there I learned to know a man, -
An ensign's rank he'd won him,
In soldier days but now the ban,
Of ill luck was upon him.
He'd come to live, the Lord knows
why,
At the same countryplace as I."
- - -
"I sat there listening on and on
In silence, breathless-hearted,
And the long night was nearly gone
When I at last departed.
He rose and saw me to the door,
Pressing my offered hand once more.
From that time forth my visits came
To be a daily fixture;
Our joys, our sorrows were the same,
We both smoked my good mixture.
He was a sage, and I a fool,
A king he was, and I at school.
These tales I've sought to give in
rhyme
Are what the ensign told me;
Beneath his flaring pine-torch, time
And time again they'd hold me.
Here in the simplest words they stand.
Take them, beloved fatherland!"
Source J.L. Runeberg, The Tales of
Ensign Stål, WSOY, 1952, 6, 13, transl.
Ch. W. Starck & C.B. Shaw.
The Outdoor Museum has its origins in the year 1960, when a previously separated part of the main building of the Hainari official residence, Ensign Stål's Cabin, was moved from Turku back to Kuru and rebuilt partly by voluntary workers and partly by two professional builders.
The plan for the location of the museum on the area between Keihäslahti school and Hoppasoja ditch was made by Alfred Kolehmainen, the curator of the National Board of Antiquities. Part of the land was parceled out of the land of Keihäslahti school by the consent 8.6.1960 of the local council and the rest of the land was rented against nominal compensation.
Into the museum milieu were later transferred from Kangasniemi farm also a legged storehouse dating back to the end of the 17th century, a sauna from Leppänen farm, from the river between Iso-Mustajärvi and Poikelisjärvi lakes a water mill from the beginning of the 19th century and which had been renovated in 1921, and in 1963 from Sormunen farm still another legged storehouse built in 1737.
The Youth Association of Kuru had already since the beginning of the 1940's been gathering old rustic style items into an old balcony access outbuilding of the official residence of the Kuru Lieutenant's dwelling place. When also the outbuilding with its objects had been transferred into the area in 1968 the Outdoor Museum of Kuru had reached its final form.
Ensign Stål's Cabin
The most essential building at the Outdoor Museum of Kuru is Ensign Stål's Cabin, where ensign Carl Gustaf Polviander used to live. He and his twin sister Catharina Fridericha were born on 5.3.1788 in Mouhijärvi vicarage, and moved in 1807 to Kuru where he died on 28.9.1876. He participated the Swedish war against Napoleon's troops in Germany in 1807 and in 1808-1809 the Finnish War as a fanjunkare or the flag-bearer of the Royal Pori Regiment.
Ensign Carl Gustaf Polviander was married twice: his first wife was his housekeeper at the Hainari dwelling place, Juliana Andersdotter (Juliana Antintytär) (4.5.1788 - 26.2.1830), with whom he got married on 21.2.1822, and the second wife was maid Anna Catharina Jöransdotter (Anna Kaisa Yrjöntytär) (16.11.1809 - 16.10.1895 or 1896) whom he married on 29.3.1835. From both marriages he had 17 children in all, 8 boys and 9 girls.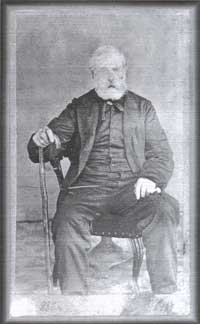 A postcard of C.G. Polviander was printed to honour the first performances of the Ensign Stål opera on 6. - 10.8.1997.
From Kuru via Turku to Kuru
Ensign Stål's Cabin has originally situated at Hainari about 2 km from its present location. It was built in the 1750's and had since 1903 located at the outer yard of the Historical Museum in Turku.
The cabin was returned on the initiative of the Polviander family back to Kuru into the newly founded Outdoor Museum area in the year 1960. The museum board of Turku town recommended on 26.1.1960 to have the cabin moved back on the basis of the request of the Polviander family in Kuru. The town council of Turku accepted the proposal of the museum board on 16.2.1960, especially when the family in Kuru promised to take care of all the costs. The official opening of the Outdoor Museum took place on 6.8.1961.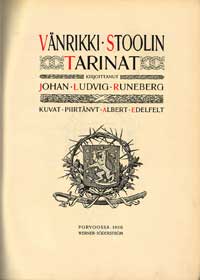 In the cabin there are two rooms with many items made by ensign Polviander himself including a self-made bed and a bridal chair, which the ensign gave his fiancée as an engagement gift. On the wall are hanging a bearskin shot by the ensign himself and also his war and hunting weapons. On the wall there is also an important document in frames, a letter of his appointment a furir or a quarterer of the Royal Pori Regiment.
There is in the cabin also a war chest armoured with iron and covered with sealskin. It was used by the ensign's son from his first marriage, subcaptain Mauritz Gustaf Polviander, in the Crimean War in 1855-1856. In the doorway there is also a hat box used by the ensign's son-in-law, postmaster Gustav Adolf Forsström, and on the coffee table can be seen deluxe editions of The Tales of Ensign Stål in Finnish and in Swedish.
These days the cabin yard has served as a celebration milieu for example for many Kuru festivals. In 1997 also the Ensign Stål -opera composed by the then cantor of Kuru church, Pentti Tynkkynen, got its first public performance and was still the next year performed with good public success.
The Model of Ensign Stål?
The possible model of Ensign Stål in The Tales of Ensign Stål has caused confusion, because there are even two ensigns as candidates: Fredrik Adolf Pelander (4.4.1766 - 1827?) from Ruovesi, Ritoniemi manor and Carl Gustaf Polviander (5.3.1788 - 28.9.1876) from Kuru, Hainari dwelling place.
Sources in Finnish
Erkki Laitinen, Kurun historia 1919-1985, Kurun kunta, 1992
Fredrika Runeberg, Kynäni tarina ja Muistiinpanoja Runebergistä, WSOY, 1984 (1876), transl. Tyyni Tuulio
J.L. Runeberg, Runoteokset, WSOY, 1997, transl. Otto Manninen
Suurmiestemme elämäkertoja, Maila Talvio, J.L. Runeberg, Otava, 1929
Further Information in English
Carl Gustaf Polviander's Home
Finnish War 1808-1809
Gustav III of Sweden
Information about C.G. Polviander
Johan Ludvig Runeberg
Life expectancy 1751-2006, Statistics Finland
Polviander line
The Tales of Ensign Stål
... and in Finnish and in Swedish
Fredrik Adolf Pelander
Fänrik Ståls sägner, Project Runeberg
Gustav III
Helsingin yliopisto, Ylioppilasmatrikkeli 1640-1852
J.L. Runeberg, Kansallisbiografia
Karl Gustaf Polviander 1788 - 1876
Kustaan sota 1788-1790
Runeberg.net
Suomen sota 1808-1809
Vänrikki Stoolin tarinat, suom. Paavo Cajander, Project Gutenberg
It is known that the author of the tales, our national poet Johan Ludvig Runeberg (5.2.1804 - 6.5.1877), lived as a 21 years old young man since June 1925 less than a year in the Ritoniemi manor as a private tutor to the children of the then manor owner captain af Enehjelm, having met both ensigns and gone hunting with Polviander, but both Runeberg himself and his wife Fredrika denied either ensign to be the model of Ensign Stål. According to Fredrika the author Runeberg hardly even remembered neither of them more than 50 years later when he was 72 years old, paralysed and in poor health. This is how she wrote in her memoirs of Runeberg (1984, 148):
"- - Sometimes it has been announced that this or that person had been the model of the Stool character. So in the list of the deceased ones in Aftonbladet 1876 is mentioned a Polviander, who had been Runeberg's friend and whom many consider the model of ensign Stool. I asked Runeberg this but he did not remember ever having met this man, and if he actually had met him, he would have regarded him as so unimportant that he had completely forgotten him.

In the same context they say that these days a Pelander is generally supposed having been the real model of ensign Stool. Of him Runeberg said that a man by that name did exist in Ruovesi or Saarijärvi, where he had been as a private tutor, but was in no way an interesting personality. Otherwise Runeberg presumed that it is difficult to say where some idea or image in a poem comes from. So it may be possible that also Pelander had had an effect on that Runeberg has described the old ensign, because who can say where every thought is born? But there is no similarity between Stool and Pelander and Runeberg's intention was not to describe him. - -"

Fänrik Ståls sägner
The Tales of Ensign Stål
In earlier Finnish translations the original name of Ensign Stål has been phonetically transcribted into the Finnish form Stool and will also be pronounced stool and not in the Swedish way stuul. In the latest translation by Juhani Lindholm in 2007 Stål is unaltered.
The roots of modern family names are in the names of farmers, their bynames or farm names but Stål is a typical given soldier name. So the ensign was indeed a real superman which is well worthy of the Finnish War veteran.
stål, -et = steel
stålbetong, -en = reinforced concrete
stålman, -nen = superman
stål i karaktären = steely character
muskler av stål = steely muscles
nerver av stål = steely nerves
rostfritt stål = stainless steel
Iso ruotsalais-suomalainen sanakirja, SKS, 1987, part 3, 408
Suomalais-ruotsalainen sanakirja, Knut
& Aulis Cannelin, WSOY, 1951, 795
The artistic freedom of a creative writer, conscious elements, subconscious influences and their combinations gathered in the course of time have obviously been there, but maybe not intentional parallels. Still the idea of especially Polviander as the model of Ensign Stål has survived till today.
There are other opinions too. For example a Finnish author Maila Talvio considered Pelander such an indisputable model that she doesn't mention Polviander at all in her short Runeberg-presentation published in 1929. Also the 2nd verse of the poem Ensign Stål refers to living in the same house, which could mean Pelander and Ritoniemi.
Anyway Runeberg visited also Polviander in Kuru staying overnight in the same house with him too, where "our joys, our sorrows were the same, we both smoked my good mixture", and as well in Ruovesi as in Kuru "the road I take to Näsijärvi's dusky lake".
Runeberg found the Finnish War as a poetry theme not until 20 years after the Ruovesi days, part I of The Tales of Ensign Stål was published in 1848 and part II in 1860. For example the first poem of the tales, the Finnish national anthem Maamme (Our Land) had its premiére on 13.5.1848 at the Flora-day festival on the Toukola Kumtähti field in Helsinki.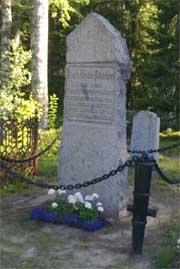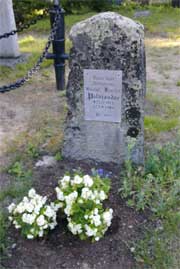 The graves of ensign Carl Gustaf Polviander and his son subcaptain Mauritz Gustaf Polviander are side by side in the old cemetery in Kuru.
Till then Pelander had been deceased already ages ago and otherwise seems to have disappeared from sight for over 15 years a little while after Runeberg's birth so that there is no full certainty of even the year of his death. There would simply have been not enough time for profound describing of experiences. Actually, neither did Polviander.
But during the Finnish War Pelander would already have been far away at grandpa age, considering the low life expectancy of only about 30 years due to the high child death rate at those times. So his war experiences could have been from not later than the Russo-Swedish War 1788-1790 conducted by king Gustav III and not from the Finnish War 1808-1809, which The Tales of Ensign Stål tell about. So, if one of these ensigns should be selected the formally qualified model of Ensign Stål, let it be Polviander.
Ensign Carl Gustaf Polviander's last resting place is in the old cemetery in Kuru, where on his right side is also the grave of his son Mauritz Gustaf Polviander (23.11.1819 - 23.8.1888, matr. 10.10.1844). Mauritz Gustaf's mother was Polviander's first wife Juliana Andersdotter.
Carl Gustaf Polviander's tombstone is after his own will a natural stone plate fetched from Ämmänsilta hill and was not allowed to be hugged. There is an engraving on the stone in Finnish to honour his memory as the last Finnish War veteran:
"Kaarlo Kustaa Polviander
☼ 1788 † 1876
Pori flag-bearer 1808
Battled in Kuuskoski, Siikajoki, Uusi Kaarlepyy, Lapua, Kauhajoki, Lappväärti, Juuttaa, Oravainen"